Kayaks and canoes are excellent ways to explore the Everglades, Ten Thousand Islands, and other natural areas in Florida's southwest gulf coast.
Canoes and kayaks are very well-suited to exploring Florida's waterways.  Both have served a significant role in Florida's history; they've been used in Florida waters for thousands of years, and they're still used today.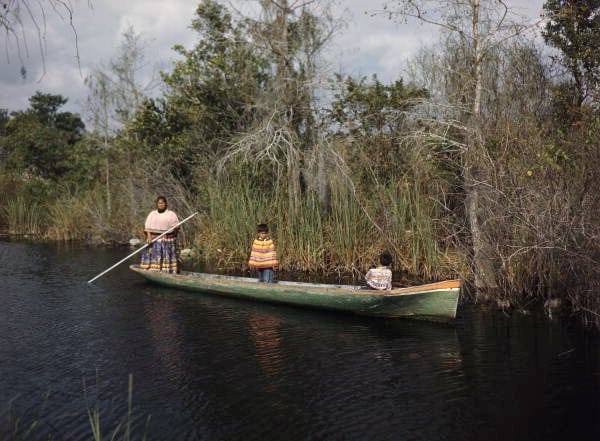 Canoes were widely used by Florida's indigenous population, and they were a major part of their survival, economy and culture.
Canoes were used for a wide variety of activities, including fishing, hunting, transportation and more.
Almost all of Florida's notable indigenous tribes relied heavily on canoes, including the Timucua, Calusa and Seminole peoples.
Florida's native people were known for being expert canoe builders. The knowledge and expertise was passed down through generations.
During the colonial period canoes were also used by European explorers and settlers, who adapted and adopted the native American canoe technology.
Canoes were essential to navigate Florida's endless maze of waterways, which would have otherwise been impenetrable by other watercraft.
Canoes were also widely used by explorers, traders and militaries to access Florida's wild interior, since waterways were more navigable than Florida's untamed wilderness.
Today canoes are used almost exclusively for recreation, especially fishing and exploring Florida's Everglades, and throughout the state's other countless wetlands, rivers, lakes, and swamps.
Canoeing is especially popular in Florida's state parks and national parks, including:
Everglades National Park
Ten Thousand Islands National Wildlife Refuge
Florida Bay
And others
Explore the Everglades by Kayak and Canoe
Guided kayak tours are one of the best ways to explore the Everglades.
Kayaks and canoes allow us to reach remote, shallow, pristine natural areas of the Everglades which would not be accessible any other way. 
Canoes and kayaks are excellent for wildlife observation. They provide a silent and respectful platform for us to find and observe the Everglades' diverse wildlife, without scaring them away with the noise of a boat motor or airboat.
Canoes are especially useful for viewing Florida's birds, alligators, and manatees. Other species, especially dolphins, are often seen as well.
The Everglades are known for their beautiful landscapes and using a canoe allows visitors to see them up close.
Paddle craft allow us to venture into shallow areas which would be inaccessible with deep-draft boats. We can venture into sloughs, coves and islets where motorboats cannot operate.
Things to Consider before Canoeing in the Everglades
Canoeing is an excellent and rigorous form of exercise. Depending on preferences, abilities and weather conditions, canoeing can be very easy, or very exhausting.
Before canoeing in the Everglades, Ten Thousand Islands, or other natural environments, guests should carefully and honestly evaluate their own physical and mental limitations, and for others in their group. Factors to consider include:
Health and medical conditions
Physical strength and stamina
Fear or comfort with water
Ability to swim and re-enter a canoe after falling overboard or capsizing
It's essential to consider and respect Florida's weather conditions.
Canoeing is usually very afe, but it can be dangerous during certain weather conditions. Unsafe weather conditions include high seas, strong winds, lightning and thunderstorms.
Especially in the summer, thunderstorms occur almost daily and can occur at any time without notice.
Canoeing or kayaking may not be suitable for all guests. Paddling is approachable for many ages and skill levels, but it does require at least a baseline level of fitness, skill and comfort on the water.
Canoes may easily capsize, or flip over, in certain situations. Care and skill must be used to maintain stability. Guests should be prepared for the possibility of capsize and must be able to safely re-enter a canoe if they fall overboard or in the event of capsize.
The everglades wilderness can be unforgiving. Guests should be prepared for exposure to the elements, including sun, wind and insects, including mosquitos and noseeums.
Canoes can carry more gear than most canoes, but they still have limited storage capacity.
Visitors should carefully consider the gear they bring, and give special thought to the high probability that gear may be exposed to water during normal operation, or in the event of capsize.
To arrange a kayak our canoe tour please contact us.